In Praise of Tomatoes:A Year in the Life of a Home Tomato Grower
"Shall we not find fascination in the earth's daily doings?"
—Stephen Jay Gould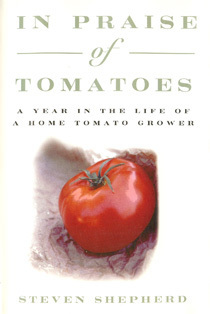 An exquisite, lyrical memoir. In an honest and meticulous voice, Shepherd recounts the age-old cycle of sowing, planting, nurturing, and harvesting tomatoes from his garden—a narrow raised box in his front yard. It begins one December evening as he pages through the newest crop of seed catalogs and leads to cool spring mornings transplanting seedlings and summer afternoons picking ripe fruits with his ten-year-old son. But the harvest is twofold, and includes such wonders as the building of friendships with neighbors, a midnight grunion run on the beach, and a languid raft trip on a warm afternoon. There is Albert, the seventy-eight-year-old neighbor with whom Shepherd shares a garden plot but who speaks no English, and Rose, who uses a time-honored Sicilian family recipe to cook a year's supply of tomato sauce in two afternoons.

More than any one meal or moment, In Praise of Tomatoes is about the wholesome simplicity that one man cultivates in his own life—through his family and neighbors, and the lovingly grown tomatoes that serve as hobby, gift, and sustenance.
Winner, San Diego Book Awards, "Best Memoir," 1996
Winner, Garden Writers Association of America, "Quill & Trowel Award," 1996
On Air Magazine

Lyrical, meticulous and absolutely wonderful.


---
Cass Peterson
Kitchen Garden

A charming sojourn in a world both small and boundless.


---
Robin Kleven
San Diego Union-Tribune Book Beat

In Praise of Tomatoes is as sweet as sun-warmed fruit straight off the vine.

This meditative, meandering diary…is about much, much more than Beefsteaks, Sweet 100s and California Suns. Like a gardening John McPhee, Shepherd finds myriad revelations in a solitary subject—in this case, a season of growing tomatoes in the front yard of his home.

…He has the endearing soul and writerly style of a poet.… Delicious reading, indeed.


---
Damon Hedgpeth
San Diego Home and Garden

Beautifully constructed and written.


---
Constance Casey
Washington Post Book World

In Praise of Tomatoes is an engaging memoir…in which a year in the life of a man turning 40 and a year in the life of his tomato patch wind together gracefully.


---
Alice Joyce
Booklist

Enchanting, warm, and thoughtful.… Any literate reader can savor getting acquainted with Shepherd.


---
Dick Tracy
Sacramento Bee

I cracked the book open in the middle, spotted something about a tomato museum on the Isle of Guernsey, and before I knew it I'd read the rest of that chapter. It seemed that wherever I opened the book there was something to grab my interest.


---
Amanda Heller
Boston Sunday Globe

Reading In Praise of Tomatoes is like hanging over the fence for a chat with a neighbor.


---
Anne Stephenson
Arizona Republic

Shepherd's book is both a memoir of a tomato-growing year, and of his neighbors and the things that link Shepherd to them.

…Tomatoes, it seems have their own quirky history. In 1851, they even graced the first page of the first issue of the New York Times," which read, in part: "We were shown the other day a tomato raised by Mr. Frederick Rowland of Hempstead, one of those vegetables which measured 22½ inches around it and weighed 2 pounds 3½ ounces. Who can beat it?"

…One of the pleasures of growing tomatoes is giving them away. The ways people tend tomatoes are as different as the ways they live their lives. And tomatoes can help you get to know your neighbors. As the New York Times" said more than a century ago: Who can beat it?


---